QuickBooks Advanced Certified Pro Advisor
We Provide a Full Range of Quality Accounting Software Solutions
Select and Purchase the right Accounting Software Products
New User Setup and TrainingOn Going Setup and Support
Get more efficient with training customized to your business
Front to Back Office Integration
Addons: 
Payroll, Advanced Inventory, Field Services, POS, Merchant Services
QuickBooks Pro and Premier
QuickBooks Pro and Premier have been a leading choice for accounting software of small and medium sized businesses for many years. The product line is easy to use, yet full featured. It is ideally suited for most service businesses. It also can be a good fit for many manufacturing and retail businesses. Many third party software companies have made custom industry specific applications that seamlessly integrate with QuickBooks products.
QuickBooks handles the full range of traditional accounting functions smoothly. The screens are intuitive and look like paper business forms. Reports are easily customized to your needs and then saved for later use. Reports can also be sent to Excel spreadsheets. The setup is as easy as it gets. QuickBooks provides setup wizards that are quite helpful. However, hiring an experienced consultant during the setup process is often a wise investment.
Intuit, the maker of QuickBooks keeps on top of today's technologies. They offer a web based accounting package. Their Premier Package allows remote operators to access accounting data on your company's computers over the internet. Invoices can be sent by E-Mail or printed from QuickBooks. QuickBooks users can accept on-line payments by credit card or bank transfer from their customers. On-line banking and payroll direct deposit are also available. Not all QuickBooks products contain these features and there are fees for some of these services.
Sesser Business Services, Inc. has been a ProAdvisor for QuickBooks for many years. We were one of the first participants in the Certified ProAdvisor program when it started in 1999. We are also one of a very few advanced certified advisors.
We can help you choose the right product for you and help you get the most out of it. Call us for a free consultation on how we can help you use QuickBooks for your business.
QuickBooks Online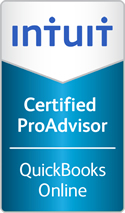 QuickBooks On-line is the fastest growing segment of the Intuit small business accounting product line. It offers a lot of the features of the Intuit desktop products, but accessible from anywhere including mobile devices.  It is especially useful for companies with multiple locations and where a lot of the work is done on the road. 
There are currently three different feature and price levels.  Let us help you decided which one is appropriate for you, and help you get the most from it.
Call now for a free consultation on how we can help you use QuickBooks Online for your business.
Call now for a free phone consultation to see how we can help. 303-464-7977